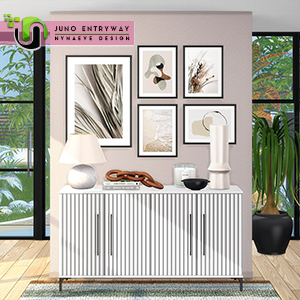 Combining the Mid-Century Modern look with a Scandinavian feel, this entryway is effortlessly elegant and offers plenty of color options.
The fluted sideboard will complement open-plan interiors and it has many decor slots so your sims can display their favorite lamps, candles, vases, or bowls. The understated style of the upholstered chair with a sleek X-shaped metal frame and an oversize seat cushion updates the space with modern appeal.
The gallery wall combines abstract art and floral statement pieces in soft neutrals that make up a trendy gallery, perfect for this entryway.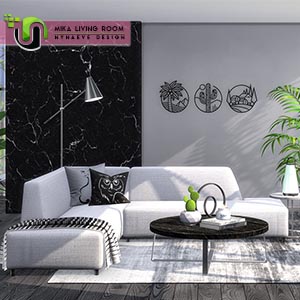 Give your sim's interior a contemporary edge with a welcoming sofa that sprawls through the center of the airy, open-concept living space.
Whether you're looking for a sofa, a loveseat, or some comfortable chairs, these stylish pieces bring in rich colors and low-profile cozy clean lines. The coffee table and the sideboard feature a fashionable geometric design that is nicely balanced by the airy silhouette, while the wood-toned elements add natural texture.
An inviting living room that emanates modern luxury, this space is devised to be highly functional while being effortlessly elegant.
The sectional is available in modular pieces so you can create a customized and personalized seating area. The coffee table sets a sleek foundation in your living room layout with its curved metal frame and alluring marble top. The marble end table pairs perfectly with the coffee table. The minimalist floor lamp showcases a sleek slim-lined design, ideal for illuminating the room for game night or your book for some late-night reading.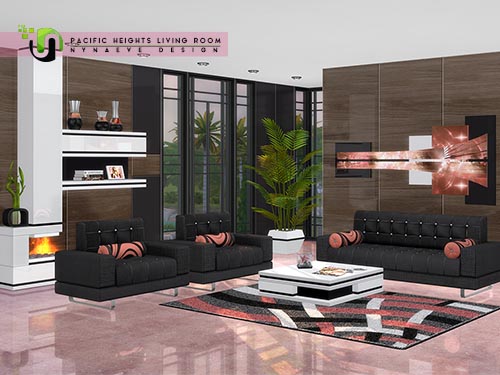 The Pacific Heights Living Room mixes comfy furnishings with sharp lines and accent colors to create a family room for reading, relaxing and entertaining guests.