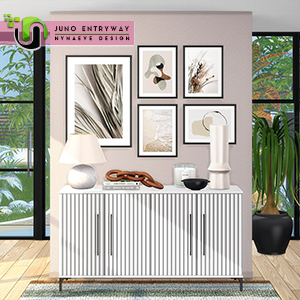 Combining the Mid-Century Modern look with a Scandinavian feel, this entryway is effortlessly elegant and offers plenty of color options.
The fluted sideboard will complement open-plan interiors and it has many decor slots so your sims can display their favorite lamps, candles, vases, or bowls. The understated style of the upholstered chair with a sleek X-shaped metal frame and an oversize seat cushion updates the space with modern appeal.
The gallery wall combines abstract art and floral statement pieces in soft neutrals that make up a trendy gallery, perfect for this entryway.